Courtesy of Russ Flaum –  Flaum Photo
GGCS General Meetings to Move to Drakes Landing in 2016

Due to a very large increase in rent GGCS will not be able to continue our general meetings at the Four Points Sheraton after our November 2015 meeting. Our new location will be the Community Room at Drakes Landing in Greenbrae, which is right next to Jason's Restaurant. We will continue to meet on Monday nights with the first meeting on Jan. 25, 2016, and have a contract for all of 2016.

The room is about the size of the current room at the Four Points Sheraton, has plenty of well-lit parking and good acoustics.

Take highway 101 to Sir Francis Drake and go west toward the Bon Air Shopping Center.

Turn left at the first light onto Barry Way.

Turn left at the first stop sign onto Drakes Landing Road.

Go to the end and look for the Jason's Restaurant sign.

Go through the foyer and turn left (Jason's is on the right).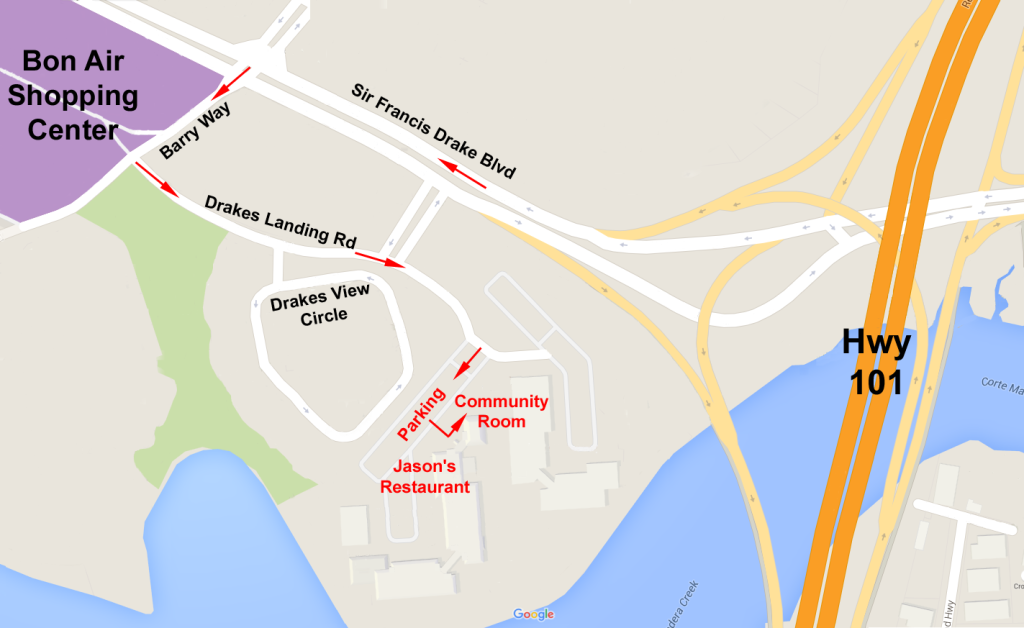 GGCS CLASSES AND MEETINGS THIS WEEK
Week of February 15 to February 19, 2016
DIGITAL CAMERA SIG
Third Wednesday, 1:30 PM at the GGCS Classroom
Wednesday, February 17, 2016: On The Art of Printing
Gene Morita, a retired physician and long-time Master Photographer at the Marin Photo Club and Co-Print Chair of the Northern California Council of Camera Clubs will discuss why we print and why he loves it so. He will also share some examples from his personal collections and explain many technical aspects of printing such as: monitor calibration, cropping, soft proofing, color correction, gamut warning, monochrome printing, Photoshop color management versus printer color management and matting.
Class members are invited to bring some of their own prints for review and discussion. It should be fun so, don't be shy, show up with your prints.
Co Sig Leaders  Mike Hancock and Barbara Hansen  332-1720
___________________________________________ 
INTERNET AND MORE
Third Wednesday, 7:00 PM at the GGCS Classroom
Wednesday, February 17, 2016
Internet and More is where people gather to talk amongst themselves about any topic related to the Internet, which allows for a broad range of conversational topics.  This month's Internet and More will be hosted by Karen Stagg kstagg@ggcs.org
___________________________________________
GGCS Apple SIG 
Third Thursday, 1:00 P.M. GGCS Classroom, First Presbyterian Church, San Rafael
Thursday, February 18, 2016 
Steve Traiger and Apple Certified Consultant Chris Harnish  will explore and explain everything in the Apple ecosphere. Topics include Mac computers and IOS devices (iPhone/iPad/Watch, etc).
This SIG meets the third Thursday of each month from 1 to 3 P.M. at the GGCS classroom. For more information, Email: chris@ggcs.org,. call Steve at 415-453-2525 or Chris at 415-927-2289
___________________________________________
Tablet/Smartphone SIG
Third Friday, 11:00 AM at the Belvedere-Tiburon Library
Friday, February 19, 2016
Moderator: Al Springstead, 415 250 3808
This SIG is a collaboration between GGCS and the Belvedere-Tiburon Library.
Share your favorite apps and tricks, and hear about new ones, whether iOS or Android. Learn to use the devices' most common features such as browsing the web, sending email, taking pictures, and downloading ebooks from the library.
Bring your questions for Philip King, iOS consultant, and Librarian Ivan Silva, Android expert.
Be sure to bring your tablet or smart phone to the meeting.
Space is limited! Please RSVP at URL below or call the Reference Desk at 415.789.2661
http://www.beltiblibrary.org/event/mastering-tablets-and-smart-phones-sig?date=1
For more information, contact Barbara Hansen at 415 332 1720 B.Hansen@ggcs.org
___________________________________________
For more information on these and other GGCS meetings, see our website at http://www.ggcs.org.
_____________________________________________________
Visit us on FaceBook at www.facebook.com/goldengatecomputersociety
___________________________________________
Follow this link for: Directions to the classroom:
The GGCS classroom is located in the office building portion of the First Presbyterian Church of San Rafael at 1510 5th Avenue at E Street
Take the Central San Rafael Exit from Hwy 101.
Go west on 3rd Street for 1/2 mile
Turn right on E Street
Turn left on Fifth Ave
After you park, go down the walkway on the west side of the office building portion of the church, through the black gate and look for signs for GGCS
There is plentiful street parking and a lot at Mission Avenue and E Street. The parking is 2-hour metered east of E Street and free west of E Street.
___________________________________________